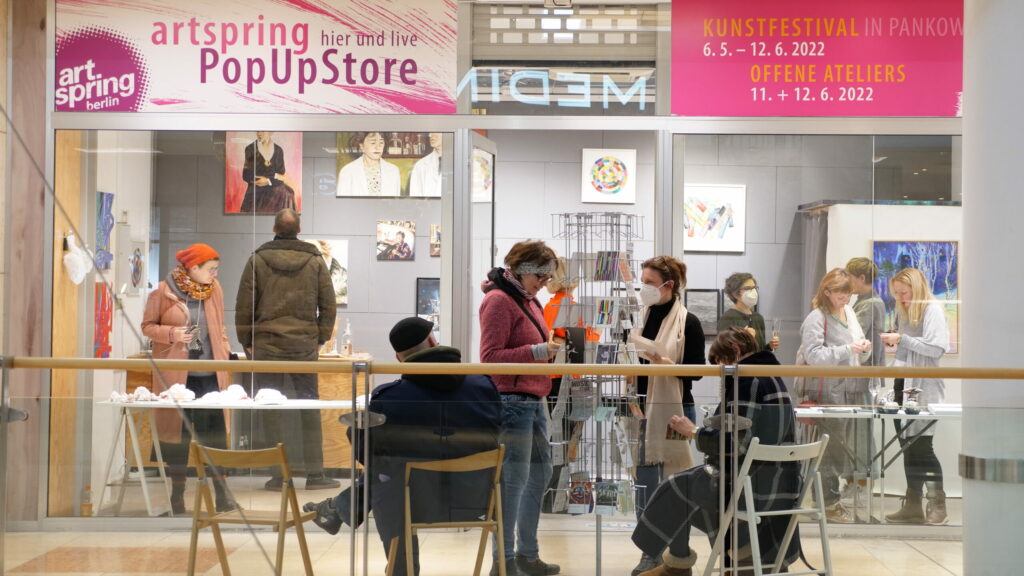 "Ich glaube nicht, dass wir isoliert und als Einzelne arbeiten sollten. Sondern dass wir unsere Eigenständigkeit, also auch unsere Widerspruchsfähigkeit, unseren Eigensinn am besten verwirklichen, wenn wir im Dialog sind. Dialog hat nicht zur Folge, dass ich meine eigenen Ansichten verflache, sondern dass sie überhaupt erst hervorgerufen werden." Ganz nach Alexander Kluge entsteht im Obergeschoss der Schönhauser Allee Arcaden ein "Garten der Kooperation". artspring berlin präsentiert sich und eingeladene Künstler_innen und Projekte im artspring Pop up Store.
Kunst im Einkaufscenter? Wir finden es gut. Das Einkaufszentrum ist ein Ort, an dem man die Nachbarn trifft. Und wir wollen mit ihnen in Kontakt treten. Ein Ort, der dazu da ist, um sich mit den Dingen des täglichen Bedarfs einzudecken, ist ein passender Standort für die Kunst
Der artspring Pop up Store ist Atelier und Projektraum, Galerie und Treffpunkt, Büro und Netzwerkknoten. Die großen Schaufenster des Stores im Obergeschoss der Schönhauser Allee Arcaden geben den Blick frei auf das Entstehen von Kunstwerken und laden zur Teilhabe ein. Hier treffen verschiedenen Arbeitsweisen – und Welten aufeinander, werden Projektideen verfolgt und ausprobiert. Im Rahmen der der einzelnen Projekte werden regelmäßig Veranstaltungen, Werkschauen, Konzerte und offenen Werkstätten stattfinden. So entsteht an einem bisher ungewöhnlichen Ort ein Experimentierfeld für Kunst und Öffentlichkeit.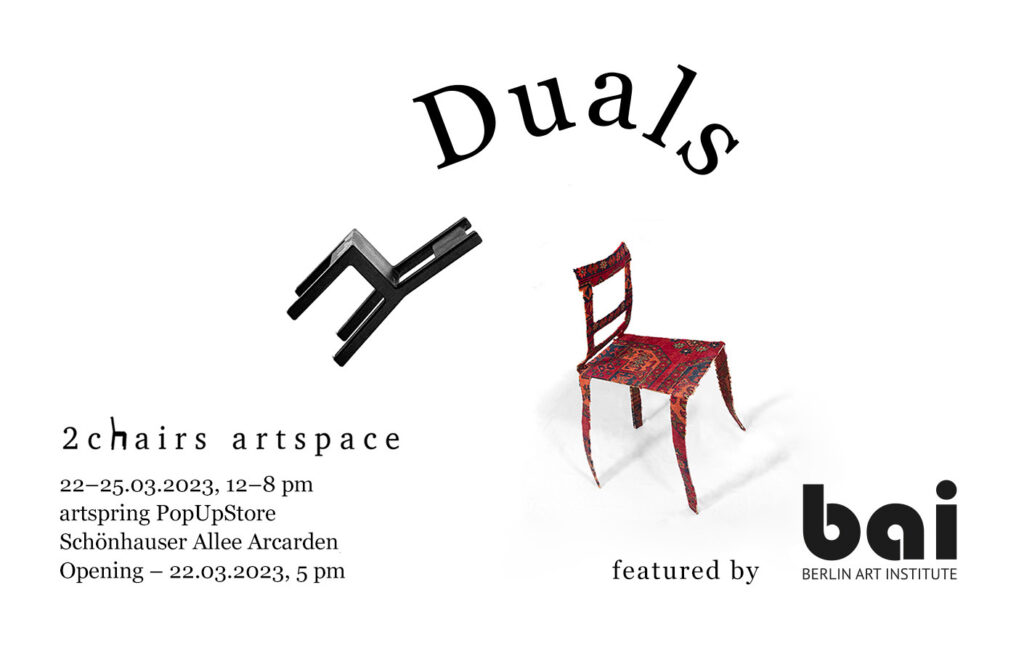 The exhibition will be opened on the 22nd of March with Manifashion#3 – Stefano Loiacono's performance that explores possible engagement between art, artist and audience, everyone is welcome to stop, listen, respond or simply keep walking.
Die Bibliothek ist für die wechselnden Akteur*innen untereinander, aber auch für die Gäste, eine Art Transitraum zwischen Vergangenheit und Gegenwart. Ein Projekt von Wolfgang Krause und Christian Mathis.
Der Kunstsalon am Berg im Tal
Lena "the NOBODY" Klochko
artspring berlin
Projektbüro und Ausstellung
09. Mai. – 12. Juni. 2022
Benefizauktion
Verkauf und Versteigerung
02. 05. – 07. 05. 2022
Fredie Beckmans
Diamantenstaub und Fledermäuse
25.04 -27.04.2022
"Perspektiven runden Winkel":
Dima Dobrovolskij ddetox.art Collagen
Workshop / Abstracte Collage
11.04. -17.04.2022
Rita Krioukov
Schule für Bildende Kunst und Gestaltung
Präsentation
20.03. – 10.04.2022
Orte TRÄUMEn – Imprints / Reflections II: Tash Arsalan und Theresa Winkler
3-tägigen Pop-up Intervention
17.03. – 19.03.2022
2900,45 km unter der Erde:
Surikatti und Ekimov, Ausstellung/Installation
11.03 – 16.03.2022
"LAB.57": Esme und Samuel Wiesemann
öffentliche Arbeitssituation
28.02. – 09.03.2022
"C – City" Wolfgang Krause/T.H.W. Greifenberg
Work in Progress – ein Schaufensterbild
14.02. – 28.02.2022